If We Don't Stop Our Air Pollution Problem, This Will Be the New Hot Accessory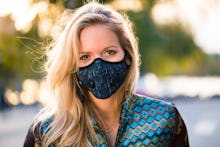 The fashion of the future is supposed to bring us shoes that make us fly and jackets that heat from the inside out. We're supposed to have closets full of clothing made by 3-D printers. Our clothing, we're told, will be responsive to our bodies. We're supposed to believe that the fashions of Star Wars are in our immediate future. 
But fashion innovations aren't always fun and games. In fact, a few fashion companies are looking to the much nearer future and considering what humans will actually need to survive. 
According to these designers and companies, this is what we'll be wearing: Respiratory face masks. 
Just look at the news from this past month, and the pressing problem of air pollution is clear. Beijing was put on red alert because of air pollution. Tehran had to close schools in December because of air pollution. And New Delhi had to restrict vehicle use due to increased pollution. 
Once a symbol of a dystopian landscape or a thoughtful person with a terrible cold, face masks are getting a fashion industry overhaul as demand grows. As Reuters reported last year, face masks have become a "multimillion-dollar industry" as pollution worsens, becoming high-end accessories in and of themselves. 
What respiratory masks actually do: Face masks shield wearers by protecting against harmful particles in the air. Respiratory masks in particular (as opposed to the flimsy surgical ones used in hospitals) contain filters and valves that allow for easier breathing, as well as certain fabrics that help filter clean air in and out. 
In addition to protecting wearers against air pollution, mask users include people who are sick, people with severe asthma, athletes and even people at music festivals. 
That's how the founders of the respiratory mask company Vogmask got started. After attending the 2011 Burning Man, which is held in the middle of a Nevada desert, Wendover Brown and her son, Marc, realized that the attendees needed a mask-like product that could keep sand out of their nose and mouth, but didn't look like the paper masks doctors use. 
"Not only do people need highly functioning masks for desert sand, but it needs to be cool," Wendover Brown told Mic. "A health product that was the highest efficiency and brought high fashion to it."
All of Vogmask's masks, which cost between $20 and $30 and are reusable, come equipped with an active carbon layer to reduce odors, an exhale valve and an N99 filter, making them 99% efficient against viruses, bacteria, allergens and smog.
They've become the leading anti-pollution mask in China.
"The pollution's been there for years, and in general it's getting worse and worse, but people just don't accept it anymore," Alexander Hjertström told Mic.
Hjertström is one of the co-founders of Airinum, a Swedish mask company he founded in 2015 after experienced poor air quality firsthand on a trip to India. The company is currently rounding up an extremely successful Kickstarter campaign, having raised $61,437 of a $10,647 goal with four days to go. 
On the Kickstarter campaign site, Hjerström outlines what goes into making each mask: a replaceable filter, an active carbon layer for odor, an electrostatic layer for breathability and a microfiber layer to fend off bacteria. It's all topped off with a streamlined, adjustable outer layer for the world to see. 
The line, Hjertström told Mic, already has customers across the United States, Singapore, Hong Kong and South Korea.
Addressing a very real threat: Seeing paper surgical masks has become a phenomenon in Asia, as millions of people don them when they are sick or are worried about contagious diseases like SARS or bird flu, as well as pollution. 
But they're not necessarily effective: As the New York Times reported, surgical masks do little to protect from the minuscule, harmful bacteria that can easily get into a person's body. Those paper masks are designed to prevent problems like splattering blood — not pollution.
"It is pretty common knowledge that surgical face masks have almost no filtration efficiency against pollutants," Benjamin Cowling, an associate professor of public health at the University of Hong Kong, told the Times. 
"It is pretty common knowledge that surgical face masks have almost no filtration efficiency against pollutants." 
Respiratory masks, on the other hand — the layered ones getting fashion's attention — are more efficient, with most masks guarding wearers from at least 95% of particles in the air, according to the Times. 
A 2009 study titled "Face Mask Use and Control of Respiratory Virus Transmission in Households," found that the masks were incredibly effective at blocking viruses and bacteria between people living in close quarters. Earlier this year, another study found that, though they're expensive, the masks helped prevent the spread of respiratory infections. According to the United States Department of Labor, respiratory face masks offer the best protection for employees who must work closely people with "influenza-like symptoms."
And they're catching on thanks to constant reporting on the rise in pollutants in the air, a rise directly correlated to emissions and climate change. "Just as air pollution can have adverse effects on human health and ecosystems, it can also impact the Earth's climate," states the EPA.
In a recent study conducted by scientists at NYU Langone Medical Center, the air we breathe — and how polluted it is — is directly related to an overall increase in risk of death. The air we breathe can kill us; in fact, it already is. In China alone, air pollution causes about 4,400 deaths a day. 
Making a mask fashionable: "[A mask is] a tool that addresses the challenge now while raising consciousness of the issues," Brown of Vogmask said, referring to the threat of pollution. "But in the meantime, people have lungs."
They also have style.
"People are really aware of how they look like in Asia, and putting a big, white, industrial dentist-looking mask on your face just isn't going to work," Hjertström of Airinum said. "It's 2015, so we wanted to turn it into an accessory, like anything else today. Like sunglasses. They were created to get the sun out of your eyes, but now they're an accessory."
It's a smart way to win in any marketplace — and the air mask market is huge. Reuters reports that China's biggest e-commerce site, Taobao, saw shoppers spend $140 million on anti-smog products face masks in 2013, as well as an 181% increase in shoppers buying face masks from the year before. So it's no surprise that mask companies are stepping up their game by becoming more stylish — specifically, by teaming up with fashion designers.
Masks are already a familiar sight at Fashion Week in Asia. In October, Mic reported on a slew of shows at China Fashion Week in Beijing where models walked down runways in face masks and protective garments; similar Chinese masks on the runways made headlines in 2014 as well. 
Since launching, Vogmask has partnered with two different designers for their high fashion shows — Nina Griffee for Hong Kong Fashion Week in 2014 and Manish Arora for Paris Fashion Week this year. At both shows, the masks were incorporated into the full collection, proving these devices can be a high-fashion accessory and a vital part of "pollution chic." 
The Nina Griffee show took place in a city with pollution levels frequently on par with Beijing. For Arora's show in Paris, the eclectic designs and matching masks were from a designer native to New Delhi, where air pollution levels are frequently labeled "severe." In both cases, the effort to bring face masks into a high fashion context appeared to be a conscious one.
In 2014, Italian designer Marcelo Burlon incorporated modern-looking masks by the U.K. company Respro. Founded in 1993, Respro's masks were initially worn by athletes, firefighters and allergy sufferers, and they tend to have an active, industrial look. When the company began distributing masks in China in 2002, they focused mainly on cyclists. 
But as pollution worsened, their masks became more fashionable (and sometimes more than 100 pounds a pop) and more protective (with a top-of-the-line filter) and rose in popularity.
"As our products are effective, high-end pollution masks for the fashion-conscious, professional, and informed Chinese consumers, we have seen a significant rise in those who have adopted our masks," Respro design director Harry Cole told Jing Daily in 2014.
The future of the face mask: So who's really buying face masks — and who really needs them?
Vogmask reports its products are sold in over 31 countries, and 38% of its revenues come from the U.S. domestic market. There are all sorts of unique needs, everything from cleaning out very dirty garages to protecting against volcano emissions for Hawaii residents, said Brown. But after people with asthma, Vogmask's biggest audience is people living in poor air quality, along with the 50 million travelers to polluted cities a year. 
For Airinum,  "Our customers are very health conscious, but also trendsetters," Hjertström said. "We've had testers from more than 50 countries, it really illustrates that it's a worldwide problem."
Respiratory masks are due to get even more high-tech. "I think the next thing after improving materials is for these masks to get smart," he said. "That means linking up with your phone, telling you just how much pollution is in the air at that moment and telling you just how your mask is functioning."
That's not to say it's a fashion trend most people want. 
"There has been this sort of outcry where people are expressing this concern," Hjertström said. "They're saying, 'How has it come to this?'"
"Ideally, no one should wear a mask in the future," he added. "[But] It's not going to disappear overnight."