Fast Facts About Martha Raddatz, ABC Democratic Debate Moderator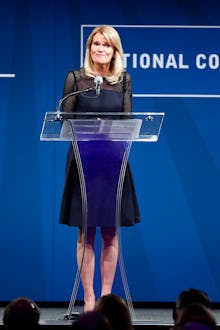 ABC News host Martha Raddatz will be one of the moderators of Saturday's third Democratic primary debate hosted by, well, ABC. Raddatz is the network's Chief Global Affairs Correspondent and a reporter for World News Tonight. For those who don't know much else about her, here are some fast facts:
Raddatz has reported on foreign policy for nearly 20 years, according to her bio on ABC, was a White House correspondent for the network before becoming the Chief Global Affairs Correspondent in TK and moderated the 2012 vice presidential debate.
In 2006, she was one of the first journalists to report that former al Qaeda leader Abu Musab al-Zarqawi was killed in a U.S. airstrike over Baghdad and reported exclusively for ABC about the death of Osama Bin Laden, the mastermind behind the Sept. 11, 2001 terrorist attack.
In 2012, Raddatz was honored with the First Amendment Award from the Radio Television Digital News Foundation, an award presented annually to "a radio or television journalist or news executive who has made a major contribution to the protection of First Amendment freedoms," according to the site.