Who Is Josh McElveen? WMUR-TV Anchor to Moderate the ABC Democratic Debate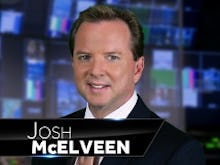 Manchester, New Hampshire, news channel WMUR-TV anchor Josh McElveen will moderate the ABC Democratic debate alongside ABC News' David Muir and global affairs correspondent Martha Raddatz, kicking off at 8 p.m. Eastern on Saturday. McElveen is the political director for WMUR, as well as a news anchor and reporter. Here's some more insight about the guy.
McElveen started his career as a radio host for a local station in Fresno, California. He made the leap into television in the late 1990s, according to his bio on WMUR-TV. His second job in television was at a local CBS affiliate in New Orleans, where he covered Hurricane Katrina. 
"Hurricane Katrina changed everything. It changed a city, a region, and in a lot of ways a country," McElveen wrote for his bio. "It was the first, and hopefully the last time I will ever cover an event that not only included mass devastation, but also tore at the social fabric of our society. The individual acts of selflessness I was able to witness during a time of such sorrow is something I will always carry with me."
McElveen has more than a decade of experience in anchoring breaking news, state and national politics and long-form interviews, according to his about.me site.