Black Hermione Casting in 'Harry Potter and the Cursed Child' Sparks Twitter Debate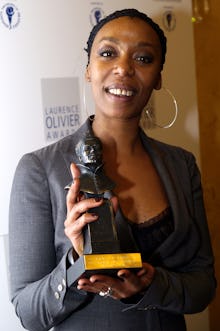 The magic from Hogwarts lives on as a theatrical reimagining in the eighth installment of J.K. Rowling's popular Harry Potter series, according to the Guardian. The play, titled Harry Potter and the Cursed Child, is set to hit London theaters in July 2016 and just announced its main cast. Jamie Parker will play Harry Potter, Paul Thornley will be Ron Weasley and Noma Dumezweni, who hails from South Africa, was cast as Hermione, according to the BBC. 
The internet reacted to the choice of award-winning theater actress Dumezweni, who is black, when Hermoine, played by Emma Watson in the book's eponymous movies, was depicted as white. Some Twitter users were "thrilled" for the diversity, while others defended Hermione's perceived whiteness. To that, Rowling jumped on Twitter to defend Dumezweni, saying only Hermione's brown eyes and frizzy hair were specified, not her skin color, in the books. 
Some Twitter users delved back into the books to find evidence that allegedly describes Hermione as white. Here are some Twitter reactions, ranging from praise to questionable:
Among the outraged were also fans and Twitter users supportive of the casting choice.
The plot of the play picks up 19 years after the last book ended, as the same trio battles adulthood. Potter now works for the Ministry of Magic, and is also a father and a husband, according to the play's website. He has to help his youngest son Albus (most likely named after guess who), who carries the weight of the Potter legacy.