Bernie Sanders Reaches Deal With DNC After Being Locked Out of His Own Campaign Database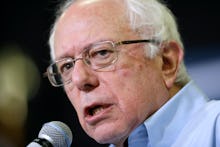 Tensions between the Democratic National Committee and Vermont Sen. Bernie Sanders threatened to escalate into open war this week after the DNC locked Sanders' campaign out of a crucial database of Democratic voters.
A data breach in Democratic database system NGP VAN temporarily allowed members of Sanders' and presidential competitor Hillary Clinton's teams to access each others' voter files, according to Reuters. NGP VAN detected a Sanders campaign staffer searching through the Clinton file in what the Clinton campaign called data theft and the Sanders campaign described as an attempt to verify the security failure.
Team Sanders was then locked out — a decision that, if final, would essentially constitute a campaign death sentence. In response to being banned from the system, the campaign filed a federal lawsuit accusing the DNC of attempting to destroy the candidate's chances of winning the nomination.  By Saturday, its access had been restored, according to Reuters.
"The DNC, in an inappropriate overreaction, has denied us access to our own data," campaign manager Jeff Weaver said at a press conference, reports CNN Politics. "In other words, the leadership of the Democratic National Committee is actively trying to undermine our campaign."
Sanders' campaign has long accused the DNC, a Democratic leadership committee with crucial fundraising responsibilities, of attempting to flip the primary contest in Clinton's favor.
He and former Maryland Gov. Martin O'Malley, a distant third in the primary race, argue the low number of Democratic debates scheduled through early 2016 is a deliberate tactic to shield Clinton from criticism and protect her popularity in the run up to the general election.
In 2008, the party organized 26 Democratic debates. It is organizing just six this primary season.
"The reality is that the huge turnouts that we've had at our meetings, our strong fundraising, our volunteer base, and quick rise in the polls have caused the Democratic National Committee to place its thumb on the scales in support of Hillary Clinton's campaign." Weaver wrote in an email to reporters re-published by Vice News. "You see that fact evidenced in their decision to bury the Democratic debates on weekends during nationally televised football games. It's more or less an open secret."
However, DNC chair and Florida Rep. Debbie Wasserman Schultz says that if Clinton staffers had accessed the Sanders campaign's data, calls to suspend access to the database would be on the other foot.