Daniel Craig Has a Surprise Cameo in 'Star Wars: The Force Awakens'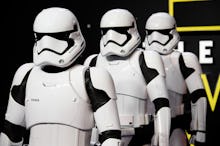 Despite previously disavowing the notion he would appear in newly released blockbuster Star Wars: The Force Awakens, James Bond franchise star Daniel Craig indeed has a cameo in the film.
Viewers, however, are unlikely to notice him: Craig's appearance is as a stormtrooper, Entertainment Weekly reports.
Fair warning: spoilers.
According to Entertainment Weekly, Craig briefly appears as the guard in full body armor who fails to fall for rookie Jedi Rey's (played by Daisy Ridley) charms when she attempts to escape a prison cell using a Jedi mind trick.
"You will remove these restraints and leave this cell with the door open," Rey says.
Craig responds, "I'll tighten those restraints, scavenger scum."
However, the trick works the second time, with the guard even leaving behind his blaster rifle for the escaping prisoner.
Widespread speculation Craig was in the movie ensued after actor Simon Pegg leaked rumors of his involvement in 2014. At the time, Craig told Entertainment Weekly he was not in the film and Pegg was "just jealous because he's not in 'Star Wars.'"
"Why would I ever bother doing something like that? F—ing hell! Pffft. Play an extra in another movie," Craig previously told the magazine.
Star Wars: The Force Awakens premiered on Friday with a one-day domestic gross of $120.5 million, $250 million worldwide — a box office record. It's also won critical acclaim, with review site Rotten Tomatoes reporting 95% of critics gave the film a positive review.