Here's What Happened When Caitlyn Jenner Met a Rabidly Anti-LGBT Pastor in Texas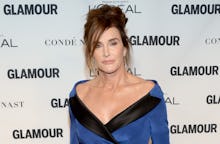 Just over a week after Caitlyn Jenner turned heads by making what some saw as transphobic comments about "passing" in an interview with Time, the celebrity is again drawing attention after meeting with an anti-gay pastor in Houston while filming her show I Am Cait.
Houston's KTRK reports Jenner stopped by Second Baptist Church on Wednesday and prayed with the Rev. Ed Young, a vocal opponent of the recently defeated HERO ordinance, which was designed to outlaw discrimination against people on the basis of their sex, race, religion and sexual orientation or gender identity.
Young called the ordinance "deceptive and deadly" and argued it would allow men to use women's restrooms and vice versa. Video of Young denouncing HERO went viral, and voters shot down the idea by a wide popular margin in November.
Jenner was probably hoping to make some kind of statement about LGBT rights at the church. LGBT activists have previously visited the Second Baptist Church as part of outreach efforts around the time the HERO ordinance was put before voters.
"I mean, it's a Christian church," gay activist Ray Hill told KHOU. "And they recognize us as sinners. That's where you're supposed to go if you're a sinner, is a Christian church. So we hope to get to know people and let them get to know us."
According to Towleroad, not everyone is thrilled that Jenner is speaking for Houston's trans community.
"The problem I have with it along with many of our allies is that the taping had no Houston trans representation, and especially Houston trans people of color leaders to discuss on camera an issue that we have been all in about and are the experts at discussing in HERO," local black trans blogger Monica Roberts wrote. "... beside this being my hometown, we also have a diverse crew of kick ass trans activists and leaders that your I Am Cait viewers should have been able to get to know, but because of your (or your producers) lack of vanillacentric privileged vision, that won't happen."
Jenner apologized this week for comments she made during a Time interview earlier this month, specifically for saying other trans people who looked like a "man in a dress" were making others "uncomfortable."