Hillary Clinton Just Showed She Isn't Running Against Bernie Sanders Anymore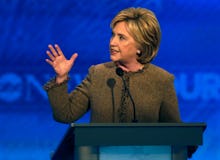 Manchester, New Hampshire — Hillary Clinton arrived here for the third Democratic presidential debate Saturday under distinctly propitious circumstances. 
Her chief rival, Sen. Bernie Sanders (I-Vt.), was engulfed in a political firestorm amid revelations that his campaign had improperly accessed and saved the Clinton campaign's voter data. The episode triggered a bitter war of accusations and recriminations, with the Sanders campaign fundraising off the backlash to the Democratic National Committee's temporary suspension of its access to voter data and Hillaryland blasting Sanders for making his campaign's alleged "theft" a "rallying point."
For Clinton, the case for forcefully challenging Sanders during their face-off at Saint Anselm College was compelling. While Sanders was unaware of the data breach until news of the accusations broke Thursday night, the incident raised significant questions about Sanders' management acumen. For a campaign that's railed against establishment politics-as-usual, the data breached smacked of dirty backroom tricks. 
But Clinton let it go.
After Sanders apologized to Clinton and his own supporters for the breach, Clinton signaled her desire to move past the issue, thanking Sanders for his contrition and adding, "Now that we have resolved your data, we have agreed on an independent inquiry, we should move on. Because I don't think the American people are all that interested in this."
Behind Clinton's strategy: So why make nice? Simply put, Clinton no longer sees Sanders as her real adversary.
Though he's kept the race close in the Granite State, most state and national polls show Clinton moving back into the commanding lead she enjoyed before it shrunk this summer amid questions about her email practices as secretary of state, a surge of interest in Sanders' progressive populist campaign and the possibility of Vice President Joe Biden entering the race.
A confluence of factors helped Clinton right her ship. Sanders helped neutralize the email controversy in the first Democratic debate. Biden didn't run. And overzealous attacks from House Majority Leader Kevin McCarthy (R-Calif.) and Republicans on the House Select Committee on Benghazi put Clinton back in the role that first led many Democrats to fall in love with her: GOP Antagonist No. 1. 
Since regaining control of the Democratic race, Clinton has focused more squarely on the looming general election battle, and Saturday night's debate threw that strategy into sharp relief against Sanders' and former Maryland Gov. Martin O'Malley's continued efforts to shake up the Democratic contest.
From the go, Clinton made clear she had little interest in sparring with Sanders and O'Malley.
"I'm very clear that we have a distinct difference between those of us on this stage tonight and all of our Republican counterparts," she declared in her opening statement. "From my perspective, we have to prevent the Republicans from rolling back the progress that we've made." 
Republicans "would repeal the Affordable Care Act, not improve it," she said. "They would give more tax breaks to the super-wealthy and corporations, not to the middle class. And they would, despite all their tough talk about terrorism, continue to let people who are on the no-fly list buy guns."
No Republican tough-talker came under more withering attack from Clinton than Donald Trump, who continues to lead most state and national polls in the GOP race. Trump's strident rhetoric against Muslims, Clinton warned, only endangers national security amid the ongoing struggle against the Islamic State terrorist group, also known as ISIS.
"I worry greatly that the rhetoric coming from the Republicans, particularly Donald Trump, is sending a message to Muslims here in the United States and literally around the world that there is a clash of civilizations, that there is some kind of Western plot or even war against Islam, which then I believe fans the flames of radicalization," Clinton said.
In one of her most pointed jabs of the night, Clinton later said that Trump "is becoming ISIS' best recruiter."
What about Bernie? While Clinton took the stage with an eye toward next fall, she did face fire from Sanders and O'Malley on a range of issues, from her interventionist foreign policy record to gun control to her ties to corporate America. 
Unlike past encounters, however, Clinton generally avoided going on offense against her rivals. Even on gun control, an issue on which she charged during an Oct. 13 debate that Sanders had "not at all" been tough enough, Clinton took a conciliatory approach, applauding Sanders for focusing more on gun violence in recent weeks while noting persistent disagreements.
"I have voted not to give gun makers and sellers immunity [from lawsuits]," Clinton said, in a contrast with Sanders. "And I also know that — and I'm glad to see this — Sen. Sanders has really moved in face of the facts about what we're confronting in our country. I know that he has said in the two previous debates that he wants to take on this immunity issue because we need to send a strong message to the gun manufacturers, to the sellers, to the gun lobby."
As if she were Lyndon B. Johnson or Bill Clinton lobbying a wavering lawmaker, she added, "And I would hope, Sen. Sanders, that you would join the Democrats who are trying to close the Charleston loophole, that you would sponsor or co-sponsor legislation to remove the absolute immunity."
Message: I'll need you on my team.
Equally telling is where Clinton did choose to go after Sanders. 
When the debate turned to the senator's support for a single-payer, Medicare-for-all health care system, Clinton reiterated her opposition to the plan on the grounds that funding it would require some new taxes on middle-class earners. 
"That is off the table as far as I am concerned. That is a pledge that I am making," Clinton said, attacking Sanders from the right.
Although she's proposed new taxes on the wealthiest Americans, Clinton's depiction of Sanders as a tax-and-spend liberal is geared toward a general election audience that may be perfectly fine with hiking taxes on the super-rich, but is far less keen on paying more taxes themselves. (Sanders argued that the savings from a more efficient single-payer system would off-set any new taxes.)
Moreover, it will be harder for Republicans to assert that Clinton supports a "government-run" health care system after her persistent attacks on Sanders' proposal for just that.
It's mutual: Clinton's decision to keep her focus on the GOP comes as the party's presidential contenders continue to lob fierce attacks in her direction, on issues from her record as secretary of state to her email controversy. During last week's GOP debate in Las Vegas, Clinton's name came up more than 30 times, in a clear indication of whom the party expects to face next year.
Sanders' total mentions? Zero.