Democratic Debate Moderator Asked Candidates About Their Spouses, Twitter Wasn't Having it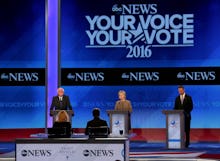 Wrapping up the third Democratic primary debate on Saturday, ABC News host and moderator David Muir threw candidates and viewers a curveball with a series of questions about the role of first ladies and the candidates' spouses — and Twitter users were not happy about it. 
"We're going to make a very sharp turn as we wrap things up here," Muir said toward the end of Saturday's debate. "Secretary Clinton, first ladies, as you well know, have used their position to work on important causes like literacy and drug abuse. But they also supervise the menus, the flowers, the holiday ornaments and White House decor." 
"I know you think you know where I'm going here," he directed the question to frontrunner and former Secretary of State Hillary Clinton. "You have said that Bill Clinton is a great host and loves giving tours but may opt out of picking flower arrangements if you're elected. Bill Clinton aside, is it time to change the role of a president's spouse?" Muir followed up with similar questions for Vermont Sen. Bernie Sanders and former Maryland Gov. Martin O'Malley. 
The series of questioning sparked critique from Twitter users saying "spouses got as much time as systemic racism tonight" and "the only China mention in this debate was in reference to porcelain."
Clinton's own Twitter account even chimed in.