Sanders Campaign Suspends 2 Staffers Involved in Voter-Data Breach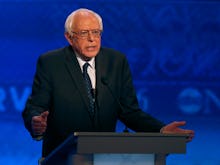 Manchester, New Hampshire — Two staffers have been suspended by the campaign of Democratic presidential candidate Sen. Bernie Sanders (I-Vt.) in the wake of revelations that staffers for the campaign had improperly accessed and saved voter data collected by the Hillary Clinton campaign that was stored in a database owned by the Democratic National Committee.
Following the third Democratic debate, Sanders campaign manager Jeff Weaver told reporters that the two additional staffers who had been suspended were involved in the data breach. The DNC cut off the Sanders campaign's access to the crucial voter database after the allegations came to light, before restoring access late Friday night.
"They're currently suspended until we complete our review," Weaver said in the spin room after the debate, referring to the two suspended staffers. "The DNC has finally given us some extra information that they were withholding from us and providing to the media. We found it very frustrating that, as we were trying to do our review, the vendor was producing reports and giving them to the media, but they only gave them to us this afternoon."
In total, four Sanders staffers accessed and saved information from the DNC system, one of whom was fired on Thursday.
Sanders himself was asked about the data breach during the debate, and admitted that the campaign "did the wrong thing" when staffers accessed and saved the Clinton voter data. But he also laid blame at the feet of the DNC for cutting off the campaign's access to their voter file, saying that the party "arbitrarily, without discussing it with us, shut off our access to our own information, crippling our campaign. That is an egregious act."
Sanders subsequently apologized to Clinton and to his own supporters for the breach of data. He also said that he would fire any staffer who was involved in the breach.