Air France Plane Makes Emergency Landing in Kenya Over Bomb Scare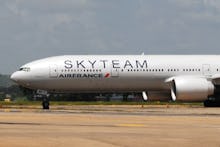 A suspected bomb found on board an Air France flight Sunday morning was a fake, according to the BBC. The airline's chief, Frederic Gagey, said that the device was "made of paper and a timer," and that its placement on the plane wasn't a "'bad joke," but an "extremely aggressive act" — the fourth false alarm since the deadly Nov. 13 attacks in Paris, the BBC reported. 
Air France flight 463 from Mauritius to Paris's Charles de Gaulle airport was grounded in Mombasa, Kenya. The plane was carrying 459 passengers and 14 crew members, and left Mauritius at 5 p.m. (GMT), landing at Mombasa's Moi International Airport around 1 a.m. on Dec. 20, the Guardian reported. The Kenya Airports Authority found and removed an alleged bomb from the aircraft's bathroom. 
No one on board the plane was injured and Moi International Airport is again functioning as usual. 
Authorities questioned six passengers in connection with the alleged explosive device, the Associated Press reported. The Kenya Airports Authority had previously referred to a thwarted "bombing attempt" in a Facebook post, revising the language to address a "suspicious object" that was "described by a security official as a box with a timer on top," according to the AP. 
Dec. 20, 2015, 11:02 a.m.: This story has been updated to include reporting from the BBC that the bomb scare on Air France was a false alarm.