Nicki Minaj's ABC Family Show: Cast, Plot and Potential Dates for 'Nicki'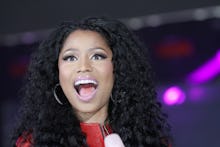 Singer and rapper Nicki Minaj has a new ABC Family show in the works and it's going to be about, well, Nicki Minaj. It was announced back in September that the network would be working with Minaj — real name Onika Maraj — to develop a series called Nicki for the network based on her childhood in Queens and her early years in an immigrant family.
This week, Minaj revealed some of the actors cast in her new show when she Instagrammed a screenshot of a press release. Eleven-year-old Ariana Neal will star as the titular character based on Minaj.
"I've literally hand picked the main characters of my scripted series," Minaj posted on Instagram. "I've been going to the auditions falling in love with some incredible people."
Model Selita Ebanks will play Grace, Nicki's mom, Wesley Jonathan will play dad Vincent and McCarrie McCausland will play teenage brother Jaylen. Whoopi Goldberg will have a guest role as a neighbor named Miss Martha. 
Minaj has already expressed her excitement about the casting on social media, calling Neal "so sweet & cute" in an Instagram post.
Minaj will serve as executive producer on Nicki, which is reportedly set to film a pilot this winter. So far, there's no official premiere date set for the new show, which will air on ABC Family, though the network will change its name to Freeform in January.