Tina Fey, Amy Poehler Do 'Meet Your Next Wife' Skit on 'Saturday Night Live'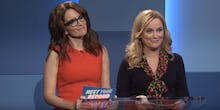 Live from New York, it's the uncomfortable truth of winter/summer relationships! Tina Fey and Amy Poehler returned to SNL on Saturday, reprising their fan-favorite roles as Sarah Palin and Hillary Clinton, while also throwing some fun new sketches into the mix. Take, for example, "Meet Your Second Wife" — "the only show where happily married men get a chance to meet the person who will one day become their second wife," Poehler-as-Helen-Walsh explains to the bemused middle-aged contestants, who are about to meet their much younger future brides — right under the noses of their current wives.
"I thought this was a home makeover show," wonders Elaine, first wife of Taran Killam. "In a way, it is," responds Fey.
Bobby Moynihan is a professor whose second wife, Hannah, is in the 8th Grade at the time of filming; Killam is a software engineer whose future Mrs. is Stacey, age five; Kenan Thompson is a financial analyst whose later love hasn't been born yet, but who is, Poehler promises, "already a beauty," based on the sonogram.
With "Meet Your Second Wife," the Sisters stars sum up the awkward reality of the older-man-marries-much-younger-woman trope, planting the question of "how old was she when ... ?" squarely in the line of the male gaze. 
As one viewer tweeted, "So wrong, but yet so right."