Zatarain's Red Rice and Beans Recalled Due to Possible Allergen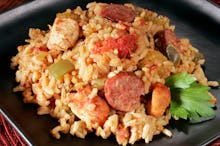 New Orleans-themed food company Zatarain's issued a voluntary recall on Thursday of 8 ounce boxes of Red Beans and Rice Original with a "Best By" date of July 31, according to a press release shared by the Food and Drug Administration.
The boxes, which were distributed to stores in the Midwest and Eastern United States, "may actually contain Creamy Parmesan Rice Mix," according to the press release, which has dairy ingredients, posing a risk to people with dairy allergies or sensitivities who could accidentally consume it.
According to Zatarain's, which is owned by McCormick, no allergic reactions have been reported in relation to the product involved in the recall. The company will offer refunds or replacements to anyone who purchased the affected product.
Detailed information about the recall is available on the FDA's website.