Demetrius Shipp Jr.: What You Need to Know About the Unknown Cast to Play Tupac in Biopic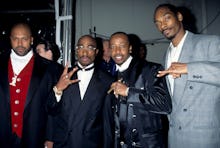 All eyes are on Demetrius Shipp Jr.: the unknown has been chosen to play Tupac Shakur in the upcoming biopic, All Eyez on Me. According to the International Business Times, "Director Benny Boom and producer L.T. Hutton have not officially announced the cast," but TMZ announced Saturday that Shipp has been given the lead role in the Tupac movie (the official film, not this bizarre Chinese project), production of which is underway in Atlanta. 
The International Business Times reported that Kat Graham of the Vampire Diaries is rumored to have been cast as Jada Pinkett Smith, with Jamal Woolard in the role of rapper and rival Biggie Smalls. It's a familiar one for him — Woolard played Biggie in 2009's Notorious. Hill Harper of CSI: NY will also appear in the movie.
According to TMZ, Shipp's father worked in the music industry, which is how Shipp met Tupac as a child and "he's been a huge fan [of Tupac's] ever since." Shipp is new to movies, and landed the role based on his striking resemblance to the late Tupac. But he's been taking crash courses in acting, four days a week, to get ready for his big-screen debut. 
The movie will follow the rapper through his entire life, including the 1996 shooting in Las Vegas, Nevada, which led to his death and launched a thousand conspiracy theories.