How to Track Santa Claus This Christmas With NORAD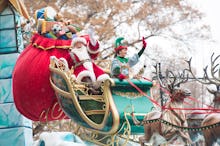 Hold on to your candy canes because Christmas is right around the corner, and the official North American Aerospace Defense Command Santa tracker is counting down the hours until Santa departs the North Pole.
The NORAD Santa tracker is a yearly tradition in which the organization, which spends most of the year monitoring the North American airspace for potential threats, sets aside all that "defense" nonsense and focuses on what's really important: Santa.
NORAD has already launched this year's Santa tracker website, which features a countdown clock leading up to the moment that Santa will begin his journey. The tracker will follow his sleigh as it crisscrosses the globe, starting at 12:01 Mountain  on Thursday.
NORAD has been tracking Santa for 60 years, according to a press release from the organization, but the whole tradition started out as an accident. 
In 1955, a company advertised a direct phone number for Santa, but accidentally misprinted the digits, and children wound up calling the Continental Air Defense Command Operations Center instead. Rather than hang up on the children, the staff provided updates (using their radar technology, obviously) as to where Santa was in his journey around the world.
NORAD has carried on the Santa tracker all this time, but now things are a little more high-tech. This year the website is available in eight different languages, and fans can follow the NORAD tracker on Facebook, Twitter and YouTube. The tracker is also available as a mobile app. It's still possible to call though: starting at 4 a.m. Mountain on Thursday, tracker operators will be standing by to deliver the most up-to-date news about Santa at 1-877-446-672.