Beyoncé and Jay Z Win 'Drunk in Love' Lawsuit Against Hungarian Artist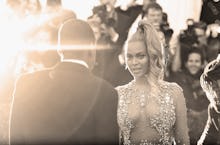 After more than a year, Jay Z and Beyoncé Carter-Knowles are walking away from a Manhattan civil lawsuit claiming the two stole samples of a Hungarian singer's vocals for their hit song "Drunk In Love" guilt-free. According to Manhattan Supreme Court Justice Cynthia Kern's decision in the ruling, "It is undisputed that the 'Drunk in Love' song and video are works of artistic expression," Page Six reported Friday.
That fact makes the 2013 hit, according to law, a constitutionally protected work of art — meaning the New York State's Civil Rights Law music artist Mitsou was using to sue hip-hop's royal family couldn't apply, since it only protects "name, portrait, picture or voice used for advertising or trade purposes without written consent."
In her lawsuit, Mitsou said her "voice was sampled and digitally manipulated without her permission." The portion of "Drunk In Love" in which Mitsou feels her vocals are used is the introduction, when a manipulated, high-pitched female voice hums notes together over Beyoncé's lyrics: "I've been drinking, I've been drinking, I get filthy when that liquor get into me." 
However, it remains unclear what extent Bey or Jay would have been involved in adding those introductory chords to the song, or whether the audio snippet in question is actually from Mitsou's "Gypsy Life on The Road," which was released in 1997 and is unavailable on iTunes and across any major online streaming services or music sites.
Listen to the song in question below: 
"Following Mitsou's stirring featured solo vocal introduction, Mitsou's voice continues to sing as Beyoncé begins to sing, to evoke foreign eroticism alongside the sexually intense lyrics performed by Beyoncé and Jay Z in 'Drunk in Love,'" the lawsuit stated, according to Complex. Mitsou also alleged the two should pay her for using the song as part of the promotional packaging for an HBO exclusive series documenting the Mrs. Carter World Tour, an idea the judge dismissed, saying the use of the single in their marketing "does not vitiate their character as works of artist expression."
It's not the first time a contemporary artist has battled with foreign musicians over accreditation: Most recently, Adele was accused of stealing the melody from "Million Years Ago," off 25, from Kurdish singer Ahmet Kaya's "Acilara Tutunmak."