11 Photos of the Devastating Landslide That Left Dozens Missing in Shenzhen, China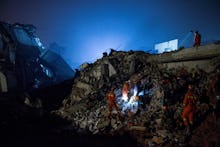 A massive landslide engulfed a section of Hengtaiyu industrial park in Shenzhen, China on Sunday, destroying up to 22 buildings and leaving at least 59 missing.
Workers' dormitories were among the buildings destroyed, and according to Reuters, the event also caused a nearby section of a major Chinese oil pipeline to explode.
Video posted by Chinese broadcaster Xinhua appeared to depict the moment a wall of dirt rolled into the park, bringing down buildings in its path.
According to Al Jazeera English, the event may be the result of negligence. The complex was part of a major construction site where excavated soil was stored on a nearby hill, and a night of heavy rain may have caused it all to come rushing down.
NBC News additionally reported some 1,500 emergency workers are present to look for survivors.