Listen to Mariah Carey's New Christmas Song, Which She Wrote On Stage In New York City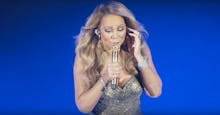 Mariah Carey, otherwise known as the Queen of Christmas, was gracing the Beacon Theater in New York City with her seasonal festiveness on Thursday night when she decided to try something different. The singer began ad-libbing a new Christmas song over a white piano, in classic Mariah fashion, hitting several high notes and finding a catchy hook to get the crowd moving.
"It's amazing, Christmas in New York," Carey sings as the crowd begins to cheer. "I'm free-styling it's not my best ... but there's carriages everywhere, city streets, bright lights and people. I love it so, come you know, to my Beacon show. Oh, oh, oh, oh, we gon' make it snow, we gon' make it snow on the stage later on."
"Christmas time makes me feel so good," Carey says as the song begins to end. "Especially when it's Christmas in New York." The crowd gave Carey a standing ovation, who shrugged the improv performance off and thanked the crowd, saying the exclusive performance was just for them. 
However, here's a video posted by a fan to YouTube for the entire world to enjoy and get in the Christmas spirit: