Kanye West's 'Swish' Previewed By Pusha T And "It's Incredible" — So When's it Coming Out?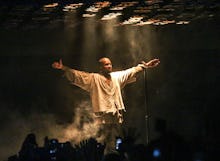 "DON'T ASK ME FOR ANYTHING TILL AFTER I'M FINISHED WITH MY ALBUM," tweeted an apparently exasperated Kanye. Does that include a release date? Probably. The artist is working on Swish, his seventh studio album, but hasn't mentioned a release date yet. Rapper Pusha T has heard it, though, and promises that the new material is worth the wait.
"Kanye's really meticulous about how he speaks about his music," he told MTV. "I'ma just say that y'all are in for a treat," adding, "I don't know when Swish is coming. He gets to work as long as he wants to, but everything I've heard is incredible. Everything. And it's nothing like the records that he's put out as of late and he's really dialed in and he's excited."
Swish follows 2013's Yeezus, and has been shrouded in secrecy since it was announced in 2014. West set the name in May, but has so far kept quiet on the details. "I don't wanna overly describe it or overly try to hype it up. I've been working slow," West said of his album in November. "[Swish's] sounding good. It's like a sonic painting, and it gets better and better every week." In September, he told Vanity Fair that he wasn't "worried about the years," but about the quality of the work he put out. He had just debuted a new song, "Fade," at his New York Fashion Week show for Yeezy Season 2, his clothing line. "That song I played has been a year and a half in the making and it may be still a year from being complete," he said to Vanity Fair. "But it was to let people get a glimpse at the painting." 
While Swish has been made available to various celebrities, it seems unlikely to be released for the general public in 2015.
Collaborators include Theophilus London, Paul McCartney and Sia, according to Fuse.
Tracks: Fuse reports that the tracklist could include singles West released since the beginning of 2015, including "All Day," "Only One" ft. McCartney, "Wolves" ft. Sia and Vic Mensa and "FourFiveSeconds" ft. Rihanna — billed as a single on Rihanna's upcoming album ANTI, which West is producing. Genius adds "A Long Time," "Feel Like That," "God Level," "Black Bruce Wayne," "Can U Be" and "Fade" to the list of contenders.