10 Million People Tried to Buy Tickets for Adele's US Tour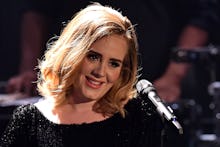 Adele seems pretty much unstoppable right now — fresh off of the record-breaking release of her new album, 25, the singer made history yet again when tickets for her North American tour went on sale last week — and 10 million people tried to buy them.
According to an internal memo sent by Jared Smith, president of Ticketmaster North America, "an all-time record of 10 million + fans" logged in to try and purchase the 750,000 available tickets for Adele's North American tour, Billboard reports.
During the frenzy on Thursday morning just after the tickets went on sale, many fans took to social media to complain about long wait times online and shows that sold out seemingly immediately.
Adele's six scheduled shows at Madison Square Garden in New York City sold out in only an hour, according to Billboard. At this point, anyone hoping to snag a seat at any of her stops in North America might have better luck just staying home and watching the "Hello" video on repeat.