'Star Wars' Stormtrooper John Boyega Surprises Fans at New York City Screenings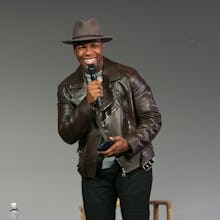 New York fans of Star Wars were given much more than a 3D experience when they visited theaters across the city for the premiere of Star Wars: The Force Awakens on Friday night. The film's star stormtrooper John Boyega, who plays Finn in the latest edition to the movie franchise greeted fans at five locations, running through the crowd for high-fives and thanking fans for going to the film's opening night. 
"I just wanted to pop by," Boyega said to a packed theater of Star Wars fans in Williamsburg, Brooklyn. "I was in the area, trying to get some jerk chicken. Brooklyn!" He shouted.
PIX11 News reported the locations Boyega visited included "Regal Cinemas Union Square, AMC Loews at West 34th Street, the AMC Loews at Lincoln Square, United Artists Court Street Stadium and Williamsburg Cinemas." The actor uploaded a video from New York to Instagram on Friday night, writing, "Amazing energy from Brooklyn fans! I did random pop ups so they had no idea! Some pop ups before the film and some after the film. Love it!"
Star Wars: The Force Awakens opened across the United States on Friday, and crushed box office records with an astonishing $517 million worldwide according to Variety. For Boyega, visiting some Star Wars enthusiasts in New York on their big night out was the least he could do.
Check out some videos across social media from Boyega's surprise visits below: