Miss World 2015 Photos: Miss Spain Crowned 65th Winner of Beauty Pageant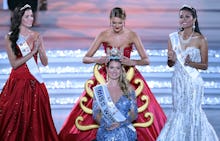 On Saturday night, 23-year-old Spanish graduate student Mireia Lalaguna Royo was crowned Miss World, the first Miss Spain to win the title. The Barcelona resident is the 65th woman to be crowned in the annual event, defeating first runner-up Sofia Nikitchuk of Russia and second runner-up Maria Harfanti of Indonesia. 
Lalaguna Royo floored the judges and audiences worldwide with a stellar speech, stating, "Just because I am beautiful on the outside does not mean I am not beautiful on the inside, too." The event, held in Sanya, China, received flack this year after Chinese officials banned Canadian contestant Miss Canada Anastasia Lin from entering the competition after her activism against the Chinese government.
"If I don't speak out for what's right, it will send out a terrible message to those who experience China's fear and intimidation and don't have the ability to fight back," Lin said, according to the New York Times. The Associated Press reports no Chinese authorities have spoken on the matter.
For Lalaguna Royo, winning came from beauty that's more than skin deep. "I  think it's important that they don't want to see only our bodies, they are looking for moral things," she stated during Saturday's pageant. The organization eliminated the swimsuit competition in 2014, with the pageant's owner Chris Wilmer stating, "It's not just a beauty contest, it's 'beauty with a purpose.' There didn't seem to be a purpose to have the swimsuit."
 See photos from the Miss World 2015 competition below:
The new Miss World, along with Miss Russia and Miss Indonesia
Miss Spain being crowned by the former 2014 Miss World
The 2015 Miss World Competition featured 110 total contestants from countries around the world.