Taylor Swift Just Gave a Fan Who Has Cancer a Surprise Visit for Christmas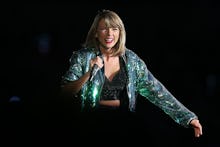 Pop star Taylor Swift just added one more member to her ever-growing squad, but this time it's definitely going to give you all the feels. On Saturday, Swift surprised 13-year-old Delaney Clements, a huge fan of the star's, with a special visit. According to her Facebook page, Clements has stage four neuroblastoma, a kind of cancer common in children. Clements has a big following on social media, and her supporters have been campaigning for Swift to visit her in person by tweeting out the hashtag #TaylorMeetDelaney. 
On Saturday, everyone's Christmas wish for Delaney came true when Swift headed out to Grand Junction, Colorado, to surprise her fan this weekend.
Clements posted a photo of the visit on her Instagram with the caption, "Literally speechless right now!!!!! My new best friend (as I call her now) made a special stop from going home to Tennessee and surprised me and gave me the best present/ hugg ever!! "
Swift also Instagrammed her visit with Clements, adding the caption "Merry Christmas Baby."
In a Facebook post shared to Clements' page earlier this month, her mom, Wendy Campbell, announced that Clements would be entering hospice care. "Unfortunately her body will not be able to sustain any more chemotherapy," she wrote. "Our goal now is to keep Delaney as comfortable as possible and keep her spirits uplifted as she travels on a journey we fought so hard to avoid."