Here's How to Watch the SpaceX Launch of the Falcon 9 Rocket Tonight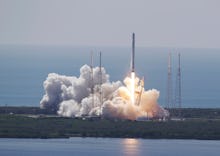 The SpaceX launch of the Falcon 9 rocket was postponed at the last minute on Sunday, and is rescheduled for Monday, Dec. 21 at 8:33 p.m. Eastern, when weather conditions look better for landing. The whole country is still invited to watch the livestream. If all goes according to plan, Falcon 9 will launch and return to Florida's Cape Canaveral safely; if something goes awry, SpaceX founder Elon Musk could be looking at an embarrassing incident on par with the explosion of the rocket's (thankfully unmanned) predecessor following its June launch. 
The SpaceX fail of six months ago prompted one astronaut, Scott Kelly, to declare "space is hard" as he looked on, Wired reported. But Musk appears hopeful, on Saturday tweeting a countdown to the launch.
According to Mashable, rockets aren't often used more than once. They're generally treated as disposable technology, which makes them expensive — and a natural target for dueling CEOs Jeff Bezos and Musk, who are currently conducting something of a private space race. Bezos' company, Blue Origin, launched its reusable Shepard rocket in November — which will one day transport customers with the spare cash for commercial space travel — and successfully returned it to Earth for a safe landing.
Shepard didn't actually go into orbit, Mashable reported, which is where Musk hopes to trump Bezos: SpaceX is aiming to launch and land the first orbital rocket Monday. But so far, its track record doesn't inspire the most confidence. There was the June incident, in which the company's rocket blew up "about two minutes after liftoff from Cape Canaveral," according to NBC, which attributed the explosion to "structural failure" within the rocket and a parachute that didn't open. Wired reported that, additionally, the company "has failed to land the rocket on a barge in the ocean, twice," but that "the company recently won a contract to send astronauts to the [International Space Station] starting in 2017, and it's in the running for a new ISS resupply contract, so it has every incentive to make sure nothing blows up."
Here's hoping.
Dec. 21, 2015 at 12:51 p.m.: This article has been updated to reflect that the launch was postponed until Monday, Dec. 21.