New Aaliyah Music Will be Dropping on Christmas — Here's How to Listen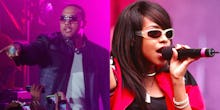 Aaliyah fans have been awaiting the day a demo, feature or some other form of audio file would be unearthed with a never-before-heard clip of the R&B singer who passed away in a plane crash in 2001. Well, according to producer and music mogul Timbaland, that day has finally come. The hitmaker made the announcement on Instagram, writing, "Attention!!!!! People ask me all the time do I have any babe girl music we haven't heard !!!!! Well the answer is YES!!!!!!!! TIMBO x BABEGIRL!!!!! Sneak peak coming!!!!!!!"
The 16-track mixtape Kings Stay Kings will drop on Christmas day for free on MyMixtapez.com. The project is also set to feature some of the hottest rappers in the industry, from Young Thug and Rich Homie Quan to Mila J and Blaze, OnSmash reports. 
"It's been a while since I've been able to give the world some new music," Timbaland told Rolling Stone in a statement. "I've spent a lot of time working on this project and I am just looking forward to giving my fans some dope sounds to close out the year."
Though it would seem likely Aaliyah would have unheard recordings somewhere from her various recording sessions throughout the 90s, the politics surrounding releasing an EP or album with her vocals is much more complex than that. When Drake tried to build an album featuring a series of Aaliyah recordings, producer Noah "40" Shebib decided against the idea. 
"I was naïve to the politics surrounding Aaliyah's legacy and a bit ignorant to Timbaland's relationship and everybody else involved and how they'd feel," Shebib said about the project's halted release in a 2014 interview with Vibe. "Tim [Timbaland] said to me, 'Don't stop. Make the album.' I think that was Tim taking the position of, 'I'm not going to stop you. If you're not going to do it, that's your decision.'"
Since then, the only thing to result from the album has been "Enough Said," produced by Shebib and featuring Drake. It's classic Aaliyah, and was an instant hit when it dropped online without any promotion, receiving upwards of nine million streams on SoundCloud. The only other music to be heard from Aaliyah since her death was in 2002, one year after her passing, when a compilation album titled I Care 4 U was released.