New Pusha T Album Features Hidden Collaboration With Pharrell — Here's How to Listen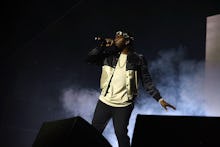 Pusha T fans won't be disappointed: Although his sophomore album, King Push — Darkest Before Dawn: The Prelude (which came out Friday), didn't appear to feature a collaboration with producer Pharrell Williams, Complex reports that a hidden track makes good on the rapper's previously made promise. Dubbed by the internet, the song "Switch It Up" was stashed in the closing credits of a short film Pusha T released with his album. It's now available to stream on SoundCloud.
Following the 2013 release of his first album, My Name Is My Name, Pusha T told Miss Info that his second album would feature a collaboration with The Neptunes (Chad Hugo and Pharrell). "January 2, me, Chad and Pharrell are going into the studio for 20 days [in Miami]," he told Miss Info. "That's what is going to start off the King Push album."
Source: Soundcloud
Darkest Before Dawn was scheduled to hit iTunes on Dec. 18 but Spotify released the album on Thursday, when Pusha T also decided to give New York fans an advance listen. "You know what NYC, Im feeling generous," he tweeted. "Meet me at 200 Park Ave south at 12:30 tonight for a free #DarkestBeforeDawn."
This latest LP comes out ahead of King Push, which Hot New Hip Hop says was anticipated as Pusha T's second solo album; Darkest Before Dawn is instead "a warm-up" to King Push, which is slated for spring 2016. 
J. Cole, Kanye West, Diddy, Q-Tip, Hudson Mohawke, Timbaland, Metro Boomin and Baauer all helped produce Darkest Before Dawn, which features vocals by Kanye West, The-Dream, A$AP Rocky, Ab-Liva, Beanie Sigel, Kehlani and Jill Scott, according to Billboard. 
The full album is available on Spotify: