The Jesus and Mary Chain Are Working On A New Album — This Is What You Should Know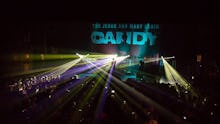 Scottish band The Jesus and Mary Chain has a new album in the works, their first studio album since 1998's "Munki." 
"We're doing an album now. We actually just started recording," singer Jim Reid told TimeOut New York in September. "It's early days, but I would say it's a more mature sound for the Mary Chain. But let's just wait and see."
This year the band celebrated the 30 year anniversary of the 1985 release of their first album Psychocandy. In 2014 they did a string of performances in the U.K. to celebrate the milestone, reports Pitchfork.
In November the band had to cancel several shows in Japan after band member William Reid was hospitalized in London. The concerts have since been rescheduled for dates in February.
So far, there is no official release date or title for the upcoming new release, which will be the band's seventh studio album, but fans were thrilled to hear the news back in September that it was on its way.