Kylie Jenner Wants to Launch a Makeup Line — Here's What We Know So Far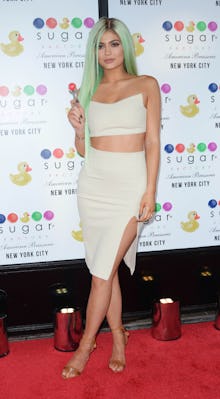 Kylie Jenner is following her dreams, meticulously building a beauty empire brick-by-brick: First came the hair extensions in 2014, then the lip kit in 2015; 2016 may well bring a full makeup line from the youngest Kardashian-Jenner. As InTouch reported, the 18-year-old Instagram and reality TV star recently posted a survey on her website. In the blank following "Next year I want to accomplish," Jenner wrote, "A makeup line." Which is, according to her recent feature in Interview magazine, her greatest aspiration.
"If I could do whatever I wanted," she told Interview's Chris Wallace, "I would have a successful makeup line, and I would want to hopefully start more businesses, and just be, like, a businesswoman."
Jenner is, in many ways, like a businesswoman. She has released two batches of her much-coveted Lip Kits by Kylie, which sold out in minutes on both occasions (despite some controversy over Kylie having swiped the packaging design from makeup artist Vlada Haggerty). Her line of Bellami hair extensions, Kylie Hair Kouture, retails for a cool $279 per kit. She, along with sister Kendall, also have a clothing line with PacSun. 
According to International Business Times, she makes $5,000 per Keeping Up With the Kardashians episode, and raked in $100,000 to promote OPI's Kardashian Kolors nail polish line. Jenner has her own app, which permits fans "unprecedented and exclusive personal access to her life." She has over 45 million followers on Instagram; her lip kit has over 700,000 alone. She is very much a brand, one her followers want to buy.
"Armed with an arsenal of grace and glam," the Bellami website reads, "Miss Jenner is the muse of a generation." 
While Jenner has released no specific plans for a makeup line launch, she tends to get what she wants: The internet can reasonably expect Kosmetics by Kylie (not the official name) to sell out in seconds sometime during 2016.