It Appears That Martin Shkreli's Twitter Account Has Been Hacked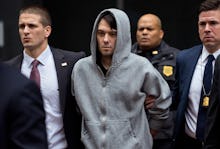 Something just didn't seem right with "Pharma Bro" Martin Shkreli's Twitter handle on Sunday afternoon. Shkreli's feed had largely been quiet following his Thursday release from a New York jail on $5 million bond, after being charged with conspiracy to commit wire and securities fraud among a total of seven counts. The former Turing Pharma CEO's pinned tweet, "I am confident I will prevail," was followed Sunday by an apparent hack job which included tweets like "I got anal aids now good thing the pill is right here for $700."
"Anyone want free money?" One tweet asked, receiving some of the highest number of retweets out of the seven released within the span of one hour of each other. "Willing to donate hundreds of thousands to charities before I go to prison..."
"I'm so god damn ugly...I gotta use okcupid :/ Fuck my life," another tweet read, alluding to Shkreli's use of dating sites to pick up women. According to a screenshot of his OKCupid profile posted to Unicorn Booty, Shkreli is really good at "difficult situations and tough choices," describing himself by writing, "what a catch!"
Shkreli was arrested Thursday for charges unrelated to his becoming the notorious face of the price gouging that takes place in the pharmaceutical industry: He jacked up prices of his company's life-saving HIV medication by 5,000%. As Mic previously reported, Shkreli is due back in court on Jan. 20. 
No word yet as to whether he'll be live-tweeting during his trial.