1 of the 6 Convicted Rapists Who Killed Jyoti Singh Is Now a Free Man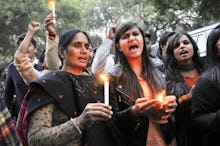 Just three years after a brutal gang rape claimed the life of a young Indian woman, spurring nationwide protests, one of the convicted rapists involved is free.
One of the six men convicted of raping 23-year-old physiotherapy intern Jyoti Singh in Delhi in 2012 has been released after serving just three years in prison, CNN reports.
The convicted rapist was released because he was 17 at the age of the attack, and Indian law allows a maximum sentence of three years at a reform facility for criminal convicts under the age of 18.
The 2012 attack, in which Singh and a male friend were assaulted by six men on a bus, and Singh was raped so brutally her intestines were pulled out of her body, inspired national outrage and international media attention. Singh later died of her injuries.
Four of the convicts were sentenced to death, while thousands of people took to the streets to protest Singh's death. Filmmakers produced at least two documentaries — Daughters of Mother India and India's Daughter — about the incident, though the latter film was banned by the Indian government.
On Friday, Singh's mother addressed the media by saying the family had lost this round, according to CNN.
"Crime has won. We have lost," Asha Singh said. "Our efforts for three years have failed. If they understood my daughter's pain, if they understood my pain, the culprit would not be free."
"He deserves the same punishment as the four who've been given the death penalty," Singh continued. "It should set a historic example in society that if you treat women and girls this way, no one will be spared."
Singh first used her daughter's given name in a public address about the crime on Wednesday, CNN reported.
In an Indian Express editorial, commentator Tunku Varadarajan wrote the public should remember Jyoti Singh by her given name, not the "gloppy sentimentality" of Nirbhaya ("fearless"), and commemorate her memory by passing a law that will ensure future perpetrators of rape under the age of 18 receive harsher punishment.
"This masking of names in the guise of a tribute only reinforced the Indian belief that a raped woman is a woman soiled, the bearer of a stain that never quite goes away: to name her is to shame her," Varadarajan wrote. "... No more mawkish pseudonyms; no more of this sappy, idolised anonymity. Let us all free Jyoti Singh from the suffocation of ill-conceived sainthood."