Miley Cyrus Poses Nude for 'Plastik' Magazine Cover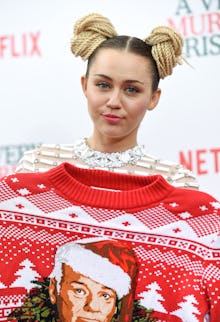 It wouldn't be a month in 2015 unless 23-year-old, pop-star-gone-Happy-Hippie Miley Cyrus was on the cover of a magazine with full frontal nudity, now would it? The singer is posing nude for the latest cover of Plastik magazine, announced Sunday across the publication's social media, though it appears Cyrus has tried something different this time around: The "Wrecking Ball" singer is actually donning pasties over her nipples in an effort to leave something left to the imagination. 
The photos show Miley with her arms behind as her eyes are rolling into the back of her head, looking directly into the camera while sitting naked next to a suited man, in a room covered in pink goo and appearing to stuff a long rope made of plastic into her mouth.
The singer most recently stripped down for the cover of Candy in late November, playing with sex toys for the photo taken by controversial photographer Terry Richardson. In that photo series, the artist was sucking on police batons and bending down to put a dildo in her mouth, as well as smoking from a blunt.
It's safe to say the Plastik cover is somewhat less risqué, though that isn't saying much.