Miss America Organizers Apologize After Miss Puerto Rico Goes on Anti-Islam Twitter Rant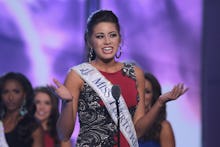 Officials involved in organizing the Miss America pageant are distancing themselves from Miss Puerto Rico, Destiny Vélez, after the 20-year-old beauty pageant contestant took to Twitter on Thursday to denounce Islam in a series of messages getting attention for all the wrong reasons.
In the now-deleted tweets, first archived by conservative social media curation site Twitchy, Vélez responded to leftist filmmaker Michael Moore, who uploaded a photo of himself outside Trump Tower in New York City holding a sign that said "We Are All Muslims."
"hold a sign that says 'We are all believers in Christ,'" Vélez wrote in one tweet. "Why are u defending Muslims that haven't done nothing for the USA". In other messages she wrote, "all what Muslims have done is provided oil & terrorize this country & many others!!!!!! ... there's NO comparison between Jews, Christians & Muslims. Jews nor Christians have terrorizing agendas in their sacred books."
Vélez added, "Muslims use our constitution to terrorize USA & plant gas stations ...  all they do is build their mosques, feel offended by American values and terrorize innocent Americans and plant gas stations."
Vélez wrote, "If we are all the same then Muslims need to take off their napkins off of their heads cuz I feel offended by it" and Islam is an "imitation of Judaism."
She also referred to the 2012 Fort Hood shooting in Texas, during which Army Maj. Nidal Hasan killed 13 people on base, telling another user who replied to her comments "tell that to the families of the soldiers who were killed by other Muslims soldiers on military bases."
The account used to send the tweets, missamerica_pr, is now inaccessible.
In a message posted to Facebook, both the Miss America Organization and the Miss Puerto Rico Organization distanced themselves from Vélez, with the former group writing it "does not agree with and does not in any way condone or support" her actions. The Miss Puerto Rico Organization wrote Vélez's messages did not reflect its values and formally apologized.
The Miss Puerto Rico Organization published an apology from Vélez on Twitter.
Vélez also said she would be voting for Republican presidential candidate Donald Trump, saying it's "time to clean up," according to the Washington Times.
The Miss America pageant is not to be confused with the Miss Universe or Miss USA pageants. Those two latter competitions were until recently owned by Trump, who sold the parent organization managing them after a dispute over his anti-immigration remarks led to a very public falling out with broadcaster Univision.
More recently, Trump has taken heat for disparaging comments and harsh policy proposals directed at Muslims. As Mic's Chris Riotta reported earlier in December, public expressions of Islamophobic viewpoints as well as actual attacks on Muslims have risen dramatically in the U.S. following attacks by the Islamic State group in Paris that killed at least 130 people. Trump's policy proposals towards Muslims, such as his brief endorsement of a mandatory database for all Muslims in the U.S., as well as blanket denial of all Muslim entry to the country, have earned him endorsements from far-right white supremacist groups.
h/t Twitchy