Donald Trump Dissed at Miss Universe by Perez Hilton, and the Crowd Cheers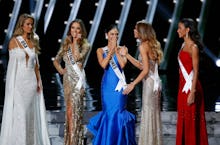 Donald Trump wasn't in attendance at the Miss Universe pageant on Sunday evening, but that didn't stop blogger Perez Hilton, one of the pageant judges, from zinging him on live TV.
When handed the mic to talk about the evening's contest, Hilton said, "Thankfully, Donald Trump no longer owns this pageant!"
The crowd went wild.
The Miss Universe official Twitter handle tweeted out the moment itself without comment save for an emoji — clearly not trying to hide the fact that the moment happened.
Miss Universe, like so many other pageants today, has been critiqued for being retrograde, with its unabashed judgment of women's bodies and the strict beauty standards contestants that are rewarded. It hasn't helped that Trump, famous for his own misogyny, was at the helm as the pageant's co-owner.
Trump's interactions with pageant contestants raised eyebrows over the years. Miss USA contestant Carrie Prejean wrote in her 2009 memoir about "The Trump Rule," whereby contestants would have to essentially audition before Trump in what felt like a "humiliating" exercise, according to the Daily Beast.
No longer. Trump co-owned the Miss Universe franchise, which includes Miss USA and Miss Teen USA, as part of a deal with NBC Universal in 2002. That relationship frayed in June when Trump made disparaging comments about Mexican immigrants, including the infamous, "They're bringing drugs, they're bringing crime, they're rapists..." statement. 
Following the controversial comments, NBC Universal cut ties with Trump. "At NBC, respect and dignity for all people are cornerstones of our values," the company said in a statement. "Due to the recent derogatory statements by Donald Trump regarding immigrants, NBC Universal is ending its business relationship with Mr. Trump."
Univision, which was also set to air the Miss USA and Miss Universe pageants as part of a five-year deal, also cut ties with the Miss Universe organization. 
After a lawsuit by Trump for breach of contract, Trump bought out NBC Universal's shares in the Miss Universe Organization. In September, Trump sold the Miss Universe organization to mega-agency WME/IMG, which quickly found a new TV network to air the pageant: Fox.
For what it's worth, Trump still seems to be a fan of the pageant. He tweeted on Sunday night:
Dec. 20, 2015, 9:51 pm: This post has been updated.