Miss Philippines Crowned Miss Universe After Steve Harvey Wrongly Named Colombia Winner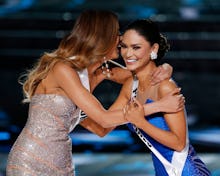 Miss Philippines, Pia Alonzo Wurtzbach, was crowned Miss Universe 2015 at Planet Hollywood in Las Vegas on Sunday night — after host Steve Harvey wrongly named Miss Colombia the winner. The outgoing Miss Universe, Paulina Vega, had already placed the crown on Ariadna Gutierrez Arévalo's head when Harvey realized his mistake. 
Wurtzbach looked visibly shocked once she learned she was the rightful winner.
"Listen folks... this is exactly what's on the card," Harvey said, showing the card to the camera, after returning to stage during Miss Colombia's bows. "I will take responsibility for this. It was on the card."
The awkward moment was caught on-air during the live telecast. 
"Please don't hold it against the ladies, we feel so badly," Harvey said, "but it's still a great night." 
Harvey then took to Twitter to apologize for the mortifying gaffe: 
The Miss Universe Organization released a statement on the incident shortly after the broadcast. "Unfortunately, a live telecast means human error can come into play. We witnessed that tonight when the wrong winner was initially announced," the statement read in part. The organization also tweeted a video of Miss Colombia, who appeared to be taking the blunder in stride. "Everything happens for a reason," Arévalo said with a smile, though she was wiping away tears.
The contestants battled it out in swimsuit, evening gown and a particularly grueling final question portion. The top five contestants were each asked a single question, with topics ranging from gun control, terrorism, legalizing marijuana to how to fight drug addiction. 
The final three were then asked why they should be the next Miss Universe. 
In a surprise twist, the other 77 contestants had a say in who ended up with the crown. Those watching at home also had a chance to pick the winner, with the organization offering real-time voting on their website — though it briefly crashed due to the influx of traffic. 
Harvey was in fine form throughout the three-hour telecast up until the final moment, providing colorful commentary along with Roselyn Sanchez. Before the crowning fiasco, celebrity judge Perez Hilton tried to stir a little controversial himself, remarking that "Thankfully, Donald Trump doesn't own this pageant anymore."
Trump sold the Miss Universe pageant earlier this year amid a flurry of controversy. After he made his infamous remarks about Mexican immigrants, NBC — a co-owner of the Miss Universe Organization along with Trump — dropped the Miss USA broadcast. WME/IMG later bought Miss Universe from Trump and moved the telecast to Fox.
See the full video of the evening's awkward finale here:
Dec. 21, 2015, 1:02 a.m.: This story was updated to reflect a statement from the Miss Universe Organization and a message from Miss Colombia.