J.K. Rowling Just Said She Loves a Black Hermione: "White Skin Was Never Specified"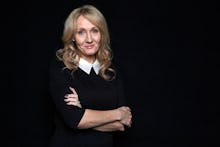 The internet promptly exploded this weekend on the news that Noma Dumezweni, a black actress originally from Swaziland, would be cast as Hermione Granger in the next installment of the much-hyped play Harry Potter and the Cursed Child. While fans got to know Hermione as white when she was played by Emma Watson in the movies, the books give no indication about the race of the story's most important female character.
On Monday, the series author and final Potter authority, confirmed that her text never indicated Hermione's race and that she "loves" the idea of a black Hermione. "Canon: brown eyes, frizzy hair and very clever. White skin was never specified. Rowling loves black Hermione. " 
Indeed, additional textual evidence lends support to the idea that Hermione was a wizard of color. Writing in Harry Potter and the Prisoner of Azkaban, the third installment of the series, Rowling offered this. "They were there, both of them, sitting outside Florean Fortescue's Ice Cream Parlor — Ron looking incredibly freckly, Hermione very brown, both waving frantically at him."
The decision to cast Dumezweni was announced by the official Twitter account of Harry Potter Play on Sunday, which also said that Jamie Parker would take up the title role as Harry, while Ron Weasley's part would go to Paul Thornley. The actors — who are a little older than the movies' Daniel Radcliffe, Rupert Grint and Emma Watson — are reprising the characters as they would appear in middle age. 
Dumezweni, a Laurence Olivier Award recipient, is currently starring in the lead role of another play, Linda, at London's prestigious Royal Court Theatre. 
With her more than six million Twitter followers, Rowling has long played judge and jury to all things in the Potter mythos. Thanks to the inveterate and probing curiosity of fans, the world has learned that Hogwarts headmaster Albus Dumbledore is gay, we've all been pronouncing Voldemort wrong and there was at least one Jewish wizard. The author even publicly corrected Mic after our news organization published a piece speculating on the cost of Hogwarts tuition — the school, it turns out, is free. 
The British author has also not limited herself merely to the magical universe. The casting of a black Hermione is only the latest example of how Rowling has often interjected herself into the more mundane affairs of muggles. When Rupert Murdoch tweeted about his belief that Muslims had collective responsibility for Islamic terrorism, Rowling was there. After Donald Trump called for a complete shutdown of Muslim immigration to the United States, Rowling was there. When the internet was plagued by misogynist Death Eaters, Rowling was there — with a dick joke.  
Harry Potter and the Cursed Child will have its world premiere on July 30, 2016 at the Palace Theatre in London.
Get the five stories that will challenge you to rethink the world by signing up for MicCheck Daily.