Who Is Miss Philippines Pia Alonzo Wurtzbach? Photos of Winner From Miss Universe 2015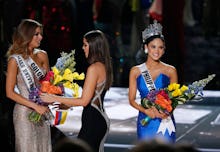 After Sunday night's blunder heard around the world — literally, considering it took place during Miss Universe 2015 — Miss Philippines Pia Alonzo Wurtzbach was crowned the new Miss Universe. She was given the award after host Steve Harvey accidentally titled Miss Colombia the honoree of the crown. For Wurtzbach, Miss Universe has been a long time coming. 
"It's a very nontraditional crowning moment, isn't it?" Wurtzbach asked cameras after the show. Wurtzbach initially took her spot behind Miss Colombia with the rest of the contestants when Harvey was forced to apologize. The just-placed crown, sash and flowers were taken from Ariadna Gutierrez and placed on the proper new Miss Universe.
"OK folks ... I have to apologize," Harvey said bluntly as the show was coming to a close. "The first runner-up is Colombia." The crowd began to start cheering and booing all at once as Harvey tried to correct the mistake. "Miss Universe 2015 is Philippines!" 
Who is Miss Philippines? The 26-year-old Wurtzbach is a stylist and lifestyle writer for a major newspaper in the Philippines, and was born in Stuttgart, Germany. The Filipino-German actress studied as a culinary chef at the Asian Culinary Studies in Metro Manila and at the ABS-CBN Distance Learning Center, where she completed her secondary education. 
Wurtzbach is 5 feet, 8 inches, speaks three languages — Filipino, English and German — and is an actress, model and award-winning pageant contestant according to her  Miss Universe bio. She competed in Miss Philippines three times before becoming the representative to represent her country in the Miss Universe pageant, according to a post on her Instagram from the night before the finale. 
"Thank you to everyone's who's trained me, took care of me and helped me," she wrote. "I'd also like to say thank you to those who challenged me. Deciding to join Binibining Pilipinas was the best decision I've ever made. And wow, what an honor it is to represent our country in the most prestigious pageant ever. This may very well be the highlight of my life. Absolutely no regrets. Finally guys, and of course most importantly, I hope I inspired you. Never give up on your dreams and believe that dreams do come true!"
Below are photos of Miss Philippines being crowned Miss Universe 2015:
Photos of Wurtzbach from the pageant: