While Everyone Was Focused on Miss Universe, Iraq Held Its First Beauty Pageant in Decades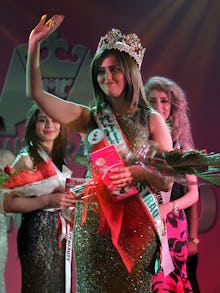 The last time someone was crowned Miss Iraq was so long ago that the winner of this year's pageant had not yet been born. The last pageant was in 1972, when Wijdan Burhan al-Deen went on to represent the Iraq in the Miss Universe competition, according to Reuters.
That changed on Saturday.
On a weekend when most international media attention was focused on both the Miss World and Miss Universe competitions, Iraq quietly crowned a winner in a new Miss Iraq pageant in Baghdad. Shaymaa Abdelrahman, 20-year-old from the city of the city of Kirkuk, took the crown after competing alongside seven other finalists, according to the AFP.
"What we're hoping to accomplish is to make Iraq's voice heard, show that it is still alive, that its heart is still beating," Senan Kamel, the 2015 pageant's artistic director, told the Guardian.
"There are many indications that Iraq is finished, but such contests give hope that life in Iraq goes on," Kamel, who also served as one of its judges, added.
The country has been plagued by violence, including the powerful influence of the Islamic State group. Several contestants also received death threats from conservative ideologists who said the competition went against the Islamic faith, according to Reuters. Some contestants eventually dropped out of the competition altogether, according to NBC.
This year's winner, Abdulrahman, told NBC in October that two of her cousins who served in Iraq's federal police were killed while fighting ISIS members. 
"Our people are badly in need of such cultural activities," Abdulrahman said. "After all we have been through, we need to do something new that would reform our society."
In order to appease and deflect some of the criticism, the pageant's organizers did not include the typical swimsuit portion (something other pageants, including Miss America, have also done recently). Instead, the women wore modest dresses below the knee, according to the Huffington Post. Still, there was a ban on headscarves, a detail that kept the competition in line with Western pageant regulations, according to the Guardian.
"We are a conservative Muslim country — we respect this," Abdulrahman told NBC. "At the same time, we are a country of a great history and culture ... It is true that we live in a conservative Muslim country, but not a backward one." 
There was more to the competition than just looks. Like in Miss America, the contestants outlined the charities they would work with. Abdulrahman said she wished to focus on education opportunities among refugees, according to BuzzFeed.
The winner is set to compete in next year's Miss Universe competition.
h/t BuzzFeed