Steve Harvey Miss Universe Mix-Up Has Twitter on the Defense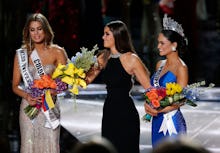 What a fiasco. During the annual Miss Universe pageant on Sunday night, American comedian and pageant host Steve Harvey fumbled hard when he mistakenly announced Colombian contestant Ariadna Gutierrez Arévalo Miss Universe on live TV even though she was actually the runner-up. Not seconds later, Harvey realized his mistake, saying, "I have to apologize. The first runner up is Colombia. Miss Universe 2015 is Philippines." Former Miss Universe, Paulina Vega, awkwardly took the crown from Arévalo and crowned Pia Alonzo Wurtzbach instead. 
On stage, a very apologetic Harvey immediately took responsibility for the debacle but his remorse didn't end there. After the show, Harvey tweeted more than one apology. Unfortunately, the television host misspelled both Colombia and Philippines in his first tweet, multiple outlets reported. Harvey deleted the original tweet and tried again: 
Honest mistake or not, it didn't take long for some users on Twitter to take the fumble as an opportunity to bash Harvey. And, my god, the memes. 
Yet after an initial frenzy of Harvey dragging, users on Twitter seemed to say, "Let's be adult about this," and collectively rallied to defend the actor. 
And once Twitter users had collectively forgiven Harvey, some pointed out a bigger problem than the mistake and resulting attention it drummed up from the public: that in 2015, beauty pageants are so passé. 
Writing for the New York Times in 2013, California State University history professor Blain Roberts penned a piece that questioned inherent sexism in pageantry and asked if things have changed much since 1968 — the year a group of feminists convened in Atlantic City in protest of the Miss America beauty pageant. According to Roberts, the more things change, the more they stay the same. Over the years, pageants have incorporated more scholarship programs and more African-American and Asian-Americans have taken home the crown since the early days of mainstream beauty pageants.
Yet Roberts pointed out that other seemingly innocuous advances, such as rebranding the swimsuit competition as a "lifestyle and fitness" segment, betray what's most troubling about pageantry. 
"At the Miss California preliminary in June, the emcees repeatedly urged would-be contestants and other women in the audience to seek out the right makeup and styling products," Roberts wrote for the Times. "When the Miss California hopefuls came on stage in their bathing suits, I did not see women performing push-ups or wind sprints but rather thin, tanned bodies sashaying in high heels. And men whistled enthusiastically."
Roberts adds, "the feminists' most incisive critique — that beauty contests exploit women, sexualize their bodies and encourage conformity to 'ludicrous' beauty standards — still resonates today."