Hacker Assault on Hello Kitty Fans Leaves 3.3 Million Exposed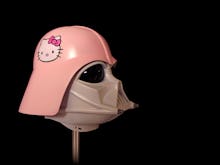 Hello Kitty may not have a mouth, but she still can't keep your secrets.
A massive hack on 3.3 million users of the online Hello Kitty community SanrioTown (as well as other Hello Kitty sites) has been discovered by security researchers who found a leaked treasure trove of stolen info. Credit card information wasn't stolen, but the hack exposed users' names, genders, birthdays, email addresses, passwords and even answers to password security questions.
The hack, which Sanrio told Mic is currently under investigation, followed a larger assault on toy company VTech, which makes tech toys for kids, like little toy starter laptops. For kids with more than just Hello Kitty fan accounts, the exposed data included chat logs, browser histories and even photos of the children using the toys. That hack hit was a massive hack earlier this month that affected more than 11 million accounts, 6.4 million of which belonged to children. 
"Frankly, it makes me sick that I was able to get all this stuff," the hacker, a 21-year-old man from the UK who was arrested just last week, told Motherboard. "VTech should have the book thrown at them."
Surveillance Barbie: There are more tech toys available to kids than ever — drones, electronics sets, interactive dolls and more. But when you put the internet in a device, you also bring in all of the internet's insecurities.
Earlier this year, Mattel announced that they'd be rolling out Hello Barbie, a doll that listens to your voice, learns your preferences and can engage in thousands of unique interactions. Hello Barbie stoked the fears of parents and techies who worried that once you hooked up a doll to the internet, it could be hacked — fears that were confirmed when researchers revealed that Hello Barbie could easily be access through WiFi, hacked and turned into a surveillance tool for spying on children.
Children are getting more access to the internet at younger and younger ages, whether it's through Facebook or their cell phones. It's worth asking if a little less raw exposure and risk might be a good New Year's resolution for parents in 2016.
Mic has reached out to Sanrio, the company that owns the Hello Kitty brand, and will update this story if we hear back.