Adele Used to Smoke 25 Cigarettes a Day — And She Says It Nearly Killed Her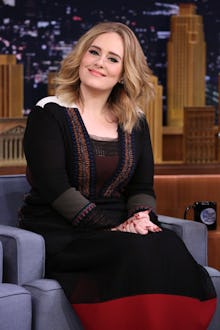 Hello from the other side. Adele says she once smoked 25 cigarettes in a day, but she finally quit. Now she claims she would "probably have died" if she'd kept up the habit.
"If I'd carried on smoking I'd probably have died from a smoking-related illness and I think that's really bad," the 27-year-old singer told the Mirror.
Adele also said she didn't want to feel responsible for giving herself cancer. "If I was dying from lung cancer I would have potentially given it to myself and that wouldn't be something I'd be proud of," Adele said.
In 2011, Adele said she was in the midst of her 25-smokes-a-day habit when doctors found a hemorrhage on her vocal cord and instructed her to take a break from performing.
Adele opened up about quitting smoking in a November Rolling Stone profile — not to mention that she's also making an effort to curb her drinking habits.
"I absolutely loved" smoking, she told Rolling Stone, "but it's not that fucking cool when I'm dying from a smoking-related illness and my kid is, like, devastated." (Her son, Angelo Konecki, is 3.) She's also down to one drink a week, she told the magazine. "I used to be able to drink anyone under the table and still be able to put on an all-right show," she said. "But with kids, hangovers are torture. They just know. They pick up on it and just go for you."
Adele's fears about dying from excessive smoking were not unfounded. Here in the United States, overall mortality among male and female smokers is about three times higher than it is among people who've never smoked, according to the Centers for Disease Control and Prevention. Smokers' life expectancy is at least 10 years shorter than that of nonsmokers, the CDC also notes.
Finally, they say that "quitting smoking before the age of 40 reduces the risk of dying from smoking-related disease by about 90%." If that's the case, it looks like Adele made a good choice.