The New Kim Kardashian Emojis Are About to Make Sexting So Much Easier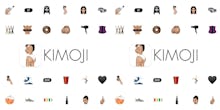 In a very Kim Kardashian move, California woman Kim Kardashian has announced the release of a new line of Kim Kardashian-themed emojis (aka "Kimojis").
They're ass-tastic!
As could probably be expected, the emojis, which will be released on Monday, are hilariously Kim-centric. Users can text emojis of crying Kim, pregnant Kim, Kim's arm taking a selfie, Kim's hand flipping the bird and — for no apparent reason whatsoever— a chocolate frosted donut with sprinkles.
But if the teaser images Kardashian has released on Twitter and Instagram are any indication, users of the app can also expect their sexting games to officially be taken to the next level. 
There are emojis of Kim's boobs (which are censored, which is weird, because non-emoji Kim typically has no problem freeing the nipple IRL), Kim's ass, Kim on a stripper pole and also a peach covered in some v. v. suggestive cream.
So the next time your beloved initiates a naughty li'l sext session, you may want to consider replying with a red Solo cup + boobs + tidal wave, which clearly means, "... and for my next sex move, I'm going to pour beer all over your breasts and then ejaculate all over them." 
Hot!
Some reactions 'round the web seem to indicate that the new emoji set will indeed be useful for many a sext enthusiast.
But if you'd rather not make your sexting game so heavily Kardashian-ized, you should know that there are other options on the market. Earlier this year, for instance, emoji design company Flirtmoji came out with a collection of NSFW sex emojis featuring a wide range of diverse and body-positive Ps, Vs and As to choose from. 
"[We] observed that tons of people the world over were using their phones prolifically for sexual communication," the company previously told Mic. "Seeing all this, Flirtmoji blossomed out of a desire to build a sex-based visual language that was inclusive, diverse, funny and functional."
But if you don't want to get all fancy and download an app to fulfill your sexting needs, there's always the good old-fashioned eggplant. Never underestimate the good old-fashioned eggplant.
h/t Marie Claire