Chance the Rapper Is Helping to Bring 1,000 Coats to Chicago's Homeless Population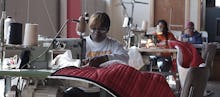 Chance the Rapper is on a mission to bring at least 1,000 coats to Chicago's homeless population — and they're pretty high tech.
The project, called Warmest Winter, comes from a recent partnership between the rapper and the Detroit-based nonprofit the Empowerment Plan, which employs homeless people from local Detroit shelters to create long, self-insulating coats that also transform into sleeping bags and totes. 
The Warmest Winter initiative, which launched Wednesday, aims to bring the coats to Chicago by asking donors to help support the manufacturing of the coats. Each coat costs $100 to "sponsor" (an amount that helps cover labor, materials and overhead expenses).
So far, the project has raised over $43,000, which has funded the manufacturing of 430 coats. 
Chance the Rapper has been repping the initiative on his Twitter and Instagram since last week, encouraging his over 1.2 million Twitter followers and 900,000 Instagram fans to donate.
According to the Chicago Coalition for the Homeless, an estimated 125,838 Chicagoans were homeless during the 2014-2015 school year, including more than 20,000 homeless students. The coats come at a much-needed time in a place like Chicago, when the harsh winter is just ramping up. Of America's homeless population, about 700 people die of hypothermia every year, according to the National Coalition for the Homeless.
These jackets have already been helping, since the Empowerment Plan started distributing them in Detroit in 2011. According to the Huffington Post, entrepreneur Veronika Scott created the manufacturing process and initially employed 10 formerly homeless women, providing sewing and job training along with a livable wage so they could find and maintain stable housing. Now, the Empowerment Plan employs 20 formerly homeless individuals, who have created more than 9,000 coats since then.
The EMPWR coats, as they're called, are water resistant and self-heating, and they can be carried as an over-the-shoulder bag when not being worn. The coats are constructed with upcycled automotive insulation, in addition to durable work fabric from Carhartt. 
By partnering with Chance the Rapper, the coats can make their way to Chicago. The ultimate goal is to open an Empowerment Plan factory in the Windy City, which would offer homeless people in Chicago shelters a living wage.
Chance the Rapper is also offering incentives to donors, including tickets to one of his concerts, a Chicago White Sox game and a Chicago Bulls game. Those endorsements have had a rapid effect: According to the Los Angeles Times, $7,500 — or 75 coats — had been raised within hours of his first tweet about the project.
The project estimates that for each 1,000 coats funded, they can save 14 lives. With the project running until Jan. 13, you've got an opportunity to follow Chance the Rapper and give something major this year.