New Movies, Spinoffs, Prequels, Oh My: Here's What's Ahead for the 'Star Wars' Franchise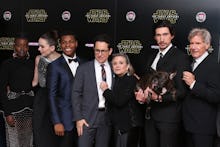 Star Wars: The Force Awakens made $238 million at the box office this weekend, shattering nearly every record in the book in the process. Assuming an average $8.25 movie ticket, that means (roughly estimating) nearly 29 million ticketholders saw the movie this weekend alone. That is an astonishing number, and a sign that The Force Awakens is on track to become one of the highest-grossing movies ever.
So what's next?
There's 522 days until Star Wars' eighth main series film hits theaters — plenty of time to watch The Force Awakens and the other franchise installments hundreds of times. But it isn't the next Star Wars film to hit theaters. That one is coming a lot sooner.
In fact, before 2020, there will be four separate Star Wars films in theaters, not even including The Force Awakens. The Star Wars universe is getting the full Marvel treatment, with spinoffs and prequels and sequels, oh my.
The eighth and ninth Star Wars episodes are set for 2017 and 2019, respectively. Neither will be directed by The Force Awakens' J.J. Abrams, however. The former will be directed by Rian Johnson (Looper), with Jurassic World director Colin Trevorrow handling the latter.
The next film in theaters, Rogue One, has the distinction of being the first Star Wars anthology film — a series that will focus on specific stories or characters in the universe instead of adhering to the main series' storyline. Rogue One will star Felicity Jones (The Theory of Everything), Diego Luna (Milk) and Forest Whitaker (The Last King of Scotland), among others. The film itself is set before the original Star Wars movie in continuity. Godzilla director Gareth Edwards is helming the project. Rogue One is set for Dec. 16, 2016.
Finally, Lucasfilm and Disney have a Han Solo-focused spinoff in the works. That installment, directed by Christopher Miller and Phil Lord (The Lego Movie), will be similar to the X-Men franchise's Wolverine-focused films, sacrificing scope for the backstory of one character. Obviously, Harrison Ford can't play a younger version of his character, so Disney has been seeing thousands of actors to fill the role. When they do settle on someone, they'll film and release the movie by 2018.
There are other projects in the pipeline as well, including a Boba Fett anthology film that hit a snag when would-be director Josh Trank (he of the Fantastic Four reboot failure) dropped out of the project. Even if it takes a while to get started, fans won't likely miss it. They'll have plenty of shiny new toys to play with through the rest of the 2010s.