China Landslide Video and Photos Show the Aftermath of Shenzhen Disaster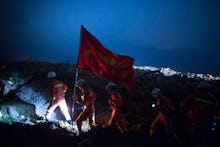 On Sunday, a massive landslide in Shenzhen, China, toppled dozens of buildings, decimated factories and workers' dormitories and caused the the disappearance of more than 90 people, according to the Wall Street Journal. A death toll for the disaster in the south China industrial city was not immediately clear. Authorities said the incident displaced at least 900 residents, the Journal reported.
A pile of excavated soil and debris is believed to have caused the landslide, according to reports from multiple outlets. In the incident's immediate aftermath, many residents said the government was at fault and that it neglected the health and safety of citizens by allowing the pile to grow to dangerous proportions. 
"The pile was too big, the pile was too steep," said one unnamed ministry, the Associated Press. reported, adding that authorities say the landslide covered 450,000 square yards of an industrial park with 33 feet of silt.
Photos taken after the incident show the devastation in Shenzhen, an industrial cities not far from Hong Kong.
Following the landslide on Sunday, the Los Angeles Times reported that Chinese President Xi Jinping issued a statement urging regional authorities to "rapidly organize" and demanded that emergency responders "do their utmost to ensure that casualties are minimized." 
According to the Wall-Street Journal, about 2,900 emergency responders arrived to the scene to help dig through the silt and evacuate residents to safety.
The disaster in Shenzhen follows another landslide in eastern China in November that caused at least 38 casualties, according to the Global Times.