Here's the Real Reason Martin Shkreli Got Arrested, According to Martin Shkreli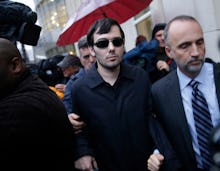 Martin Shkreli was arrested Thursday for allegedly using stock from biotech company Retrophin, which he founded in 2011, to pay off personal funds, but that's not the real reason Shkreli was arrested — according to Shkreli.
In the first interview since his highly publicized arrest last week, Shkreli,  a.k.a. the Pharma Bro, told the Wall Street Journal in an article published Monday that, in his opinion, the police were searching for any excuse to arrest him after he notoriously hiked the price of a life-saving HIV drug from $13.50 to $750 in September.
"'Trying to find anything we could to stop him,' was the attitude of the government," Shkreli told the Journal. "Beating the person up and then trying to find the merits to make up for it — I would have hoped the government wouldn't take that kind of approach." Yet an FBI official previously told the Journal that Shkreli committed "a securities fraud trifecta of lies, deceit and greed."
Shkreli reaffirmed to the Journal his belief that he'll be acquitted of all charges against him, adding that the accusations are "not something I deserve given the facts."
Shkreli, known at one point as the "most hated man in America," resigned from his position as CEO of pharmaceutical company Turing on Friday after being arrested for securities fraud on Thursday. Many Twitter users celebrated his resignation and an anonymous investor told the New York Times that the company couldn't allow Shkreli to remain CEO after the accusations.