Lindsey Graham Quits Race for Republican Presidential Nomination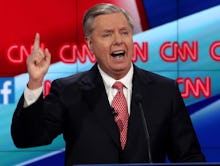 Sen. Lindsey Graham (R-S.C.) on Monday became the fourth Republican hopeful to quit the presidential race, bringing an end to one of 2016's most colorful — albeit low-polling — campaigns.
"Today, I'm suspending my campaign for president. I want to thank everyone who has taken this journey with me. You have honored me with your support," Graham said in a video message. 
Though Graham leaves the race with just 0.5% average support in national polls, the foreign policy hawk proclaimed his campaign a success, noting that terrorism and national security have moved to the fore of the GOP conversation.
"Four months ago at the very first debate, I said that any candidate that did not understand that we need more American troops on the ground in Iraq and Syria to defeat ISIL was not ready to be commander in chief," Graham said. "At that time, no one stepped forward to join me. Today, most of my fellow candidates have come to recognize this is what's needed to secure our homeland."
Still, Graham acknowledged in an interview with CNN, his campaign had "hit a wall." The Palmetto State senator never made it out of the so-called undercard debates for low-polling candidates, and although he enlivened those otherwise-sleepy affairs with often-snarky zingers and promises that Washington would "drink more" under a Graham administration, he was never able to gain traction, even in his home state. A CBS News/YouGov poll released Sunday found Graham winning just 1% of the vote among South Carolina Republicans.
Tellingly, one of the few times Graham received widespread attention during the campaign was when frontrunner Donald Trump read Graham's private cellphone number aloud before an audience of South Carolina Republicans, requiring the senator to change his digits.
A man out of step: Though Graham, first elected to the U.S. Senate in 2002, compiled a strongly conservative record on issues like abortion, foreign policy and tax cuts, he often seemed out of step with an increasingly hard-line GOP. Graham is a leading supporter of comprehensive immigration reform, deriding Trump's anti-immigration proposals as "gibberish," and is one of the few prominent Republicans to acknowledge the science behind climate change.
He was not unlike another Republican who often reveled in bucking conservative orthodoxy: Sen. John McCain of Arizona, a close pal of Graham's and one of his few high-profile supporters. In a statement Monday, McCain said "Republicans lost our most qualified, thoughtful, fearless and honest presidential candidate, not to mention the candidate with the best (and it seemed sometimes the only) sense of humor."
Graham follows former Texas. Gov. Rick Perry, Wisconsin Gov. Scott Walker and Louisiana Gov. Bobby Jindal in exiting the Republican contest, which now includes 13 candidates. 
You can watch Graham's announcement here: