This Body-Positive Nude Photo Exhibit Was Shut Down For Being "Indecent"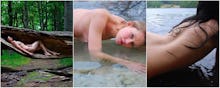 When Danish photographer Mathilde Grafström came up with the idea for her "Female Beauty" photo series, she was hoping to encourage more women to feel good about their bodies.
But her dream of publicly spreading this message in an exhibit in Nytorv Square in Copenhagen, Denmark was thwarted when police denied her permission to stage the exhibit, due to the "indecent" nature of the photographs. Their reasoning? The female models in the images are nude. 
The Independent reports that Grafström was upset by the rejection of her work.
"It's totally reprehensible. Total suppression of my art," she told the Danish news channel TV2. "I don't understand that my pictures can be offensive. They show something you see when you change clothes at a swimming pool."
Grafström is also quick to note that Copenhagen officials have actually OK'ed nude images in public advertisements before. She pointed out that similarly graphic ads for a plastic surgery clinic, which feature naked breasts, are currently displayed on the sides of buses. (In the United States, the period underwear startup Thinx used a similar argument when the New York City subway system initially refused to feature its ad campaign, referring to it as "inappropriate.")
"Nygart's [the surgery's] breasts are plastic," she said. "My photos are an aesthetic expression. It is shocking that my pictures are obscene, while advertising is not." (Mic has reached out to Grafström for additional comment and will update if we hear back.)
On her website, Grafström explains that her intention behind the photo series is to promote body positivity, both for her models and for herself.
"I love to shoot my models whilst they are naked. But sometimes it can be difficult because I also fight with my own problems; I think my hips and breasts are to small. Sometimes when my boyfriend [is] looking at my body, I think that I'm unattractive. But then I can see that it's all the negative thoughts about my body that makes me less beautiful and unfree," she wrote.
"It's important for me that my models understand that the pictures I want to make of her, [are] not about how she looks physically, but about the life energy and beauty she contains."
h/t the Independent