This TV Station Offered Underprivileged Kids a Dream Gift — And an Absurd Moral Quandary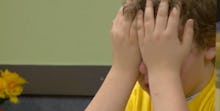 Months after a CBS show gave needy families $101,000 and challenged them on camera to give some or all of it to other, needier families, another competitor has emerged in the seedy poverty porn circuit.
Television network UP TV (formerly the Gospel Music Channel), which the Washington Post reports is focusing on an "uplift someone" campaign this year, produced an unintentionally dystopian take on uplifting viral videos by subjecting dozens of low-income children in Atlanta to a moral purity test in order to earn Christmas presents for their families.
UP TV worked with the Boys & Girls Clubs of Metro Atlanta (of which 83% of members come from low-income families) to film a video in which children from the club are shown two presents — one for them and one for a family member.
Then the narrator tells the children they have to choose between the two presents in phrasing only slightly less ominous than the Jigsaw killer.
"The catch is that you can either get a gift for yourself or you can pick a gift for your mom and dad," the narrator says. "I need you to pick one ... is that a really hard question? What gift do you pick?"
All of the children in the video pick the gifts for their parents.
In the end, the kids are told that because of their selflessness, they will go home with two parting gifts — the one for them and the one for their parent. The children all discuss how much their families mean to them, with boy saying "It's either Legos or family and I choose family." Another girl says, "I get gifts every year from my family and my mom don't get anything."
But consider our hearts not warmed. 
In an era of unprecedented income inequality across the country, the tone of such a spectacle, especially when its under the guise of "social experiment" is undeniably, well, gross. At least when Santa puts kids on the naughty list he's being a neutral observer.