Rolling Stones América Latina Olé Tour 2016: Dates, Info and How to Get Tickets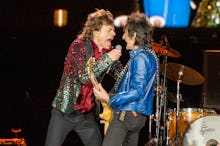 The Rolling Stones announced in November they'd bless Latin America with a stadium tour, kicking off in February in Santiago, Chile. As the América Latina Olé tour approaches, here are tour dates, how to snag tickets and everything else we know.  
"We love playing Latin America, and are excited about going to some cities for the first time. The audiences are among some of the best in the world, they bring incredible energy," Mick Jagger said on the site. The tour marks the Stones' first visit to Latin America in 10 years and will hit Buenos Aires, Montevideo, Rio de Janeiro, São Paulo, Porto Alegre, Lima, Bogotá and Mexico City. 
Tickets went on sale on the Rolling Stones' website Nov. 9 and are already sold out for three dates in Buenos Aires. The tour begins Feb. 3 in Santiago and wraps up March 14 in Mexico City. Tickets are still available to purchase on the site. Check out tour dates and cities here.
Here's a promo video for the tour:
This tour follows the band's Zip Code tour across the United States that raked in $109,714,026 at the box office and tours across Europe, the Middle East and the Pacific Rim following the band's reunion in 2012, Billboard reported. Since the reunion, the Rolling Stones have grossed $400 million in box office, according to the report.